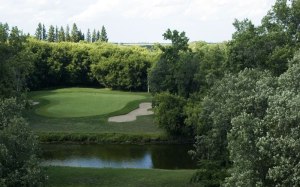 Established in 1987 originally as a 9-hole course, Kingswood expanded and is an 18-hole par 71 course with three levels of tee difficulty.  In 2011 the course holes' sequence were altered to help increase pace and flow.  The first four holes make their way through residential community with both water and traps strategically positioned.  The Fifth hole is a short par 3 that is followed by 2 long par 4's.  The 8th hole is a scenic par 3 that plays over the La Salle River.  9 and 10 play through the bush that is adjacent to the river.  Holes 12 through 16 proceed into a links terrain but with abundant sculpted mounds and bunkers. Hole 17, which crosses back over the river, is a par 3, with a green that is not to be underestimated. It is just one of the several Signature holes throughout the course.  The 18th brings the final challenge of the course, framed with fairway bunkers which lead to an island green.
The clubhouse was built in 1997 and was newly renovated in 2017, creating Kingswood Wedding & Event Centre.  Fairways Restaurant & Lounge at Kingswood was established in 2017.
Kingswood Golf and Country Club 2022
Membership Packages
Driving Range:  $400 + GST, Members can add on for $175.00 + GST
Cart Membership:  $600.00 + GST & PST
Unrestricted:  $1300.00 + GST.  Golf Anytime When the Course is Available. Spousal rate $900 + GST
Seniors Unrestricted: 55+ $1050.00 + GST.  Golf any time when course is available. Spousal rate $700 + GST
Intermediate: Age 19 – 35 $900.00 + GST.  Golf anytime when the course is available.
Juniors: Age 18 and under $400.00 + GST Monday – Friday Anytime and Weekends and Holidays after 1pm.  (Juniors Program Includes Junior League, Instructions, Mentorship, Unlimited Range Balls).
NEW! Monday- Friday restricted membership: $900 plus GST. Open to all adults, cannot play on weekends and holidays. No other restrictions.
All adult members can add unlimited use of the driving range for $175+ GST
Family Membership: price of adult membership and child from same household receives 50% off Junior Membership.
Please email christie@kingswoodgolf.ca to register.
All other enquiries please email darren@kingswoodgolf.ca