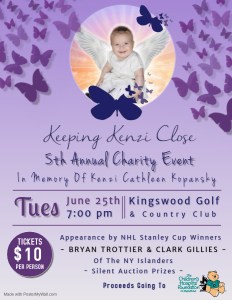 We are helping to raise money in support of the Children's Hospital Foundation of Manitoba to purchase a piece of emergency room equipment. Kenzi Cathleen Kopansky became an Angel January 25th 2015 at 6 months of age due to acute appendicitis. Her parents continue to parent her by giving back to the community, and we want to help them!
By making a donation in Kenzi's honour, you are helping to make a difference in child health and child health research. With your support, we can do more for the children and families that need us.
Please join us for a night of fun! There will be a live band, and Bryan Trottier will get up to sing & play guitar with them! There will be a silent auction and 50/50 tickets as well!